Airbnb Hosts Set To Cash In On Sleighcation Boom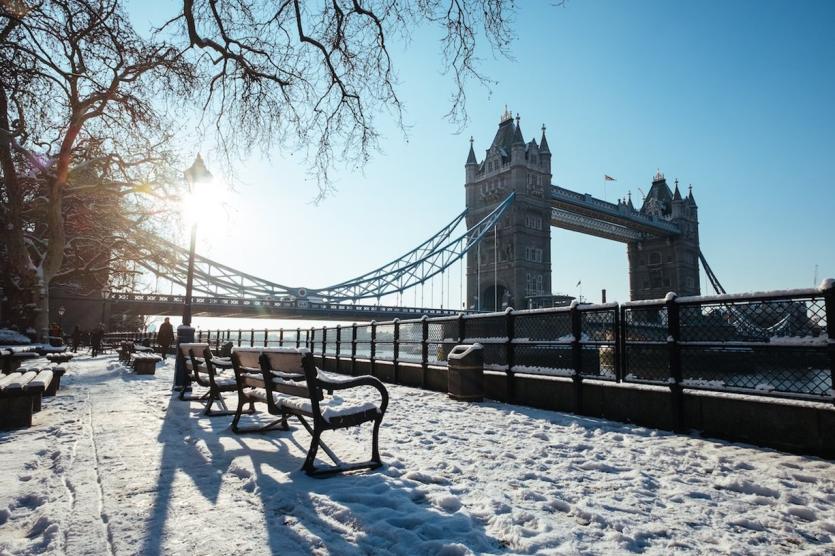 The final easing of long-term lockdowns and travel restrictions may have wet the appetite of some when it comes to heading abroad, but the domestic staycation boom isn't going anywhere any time soon.
It has long been an English tradition to opt for an annual overseas getaway, but it seems that right now, despite international travel restrictions easing, most Brits have their sights set on trips a little closer to home.
According to current research conducted by Opinion Matters in association with Hoseasons, 83% of those who enjoyed a staycation in the past year are looking to do so again in the next 12 months, and 24% of them already have something booked.
Of all the holidaymakers surveyed, 28% reported that they preferred the idea of a staycation over heading abroad, with some of the reasons including taking a relaxing break without the stress of travelling abroad, and the satisfaction of supporting local businesses.
The research also found that there is a growing trend towards winter staycations in the UK, with one in five people considering a 'sleighcation' this year.
UK staycation boom will span winter months for good reason
We reported earlier in the year that a staycation boom was expected for the summer months, but now the popularity of opting for a UK getaway of one sort or another is showing no signs of slowing down as we approach the winter months.There are many reasons for this continued trend, including:
Natural response to easing of restrictions
People are naturally going to want to take advantage of moving more freely throughout the UK in response to easing restrictions. This reactive trend will cross over into the winter months in line with the lifting of restrictions spanning across more than the summer months.
Holiday postponements
So many holidays have been postponed in the last 18 months, that the backlog of people now trying to find somewhere to stay is causing high demand in the staycation and Airbnb sector.
Events reopening
As the country comes back to life, the resurgence of events on the calendar are attracting travelers from near and far. More and more people are looking to travel both domestically and from overseas to attend occasions such as concerts and sporting events.
Remote working trend to continue
Despite the easing of restrictions, Covid has resulted in an ongoing shift towards remote working trends in its wake. This trend contributes to the increase in Airbnb bookings, as more people look to work in a variety of locations, and for longer periods of time.
Family Reunions
Having been separated for so long, families are looking to reunite and find great places to stay and enjoy some time together now that restrictions have been lifted.
Airbnb CEO announces need for millions more hosts
Airbnb CEO, Brian Chesky, has announced that the online staycation giant anticipates the need for millions more hosts worldwide to meet the soaring demands as we collectively exit the pandemic conditions.
Demand is already beginning to significantly outweigh supply when it comes to UK Airbnb rentals, and many tourist attractions and restaurants in popular destinations are experiencing a surge in bookings despite the summer drawing to a close.
Whether you are looking to make some extra money from your primary residence or a second property you may be fortunate enough to own, the opportunity to cash-in on this boom is real and present, and now is the time to act.
Becoming an Airbnb host
All of the information you need to become an Airbnb host can be found on the Airbnb UK website, but you can also find out all you need to know by consulting with Airbnb Management Services, like Portico Host.
A great option for landlords, too
Navigating the market conditions of the pandemic has been tough on landlords. With dramatic shifts away from city centres and ongoing remote-working trends threatening to cause continued changes in demand, longer-term tenancy in certain areas remains an unpredictable market.
According to a study conducted by the UK Short Term Accommodation Association, short-term rentals are considerably outperforming hotels and serviced apartments at the moment, averaging 62.7% occupancy in June 2021 - up 35.7% from June 2020.
Short-term rentals were also out in front regarding Revenue Per Available Room (RevPAR), with an average daily rate of £126.20 representing a 17.5% year-on-year increase from June of 2020.
The 'home-from-home' experiences that Airbnb properties provide are causing guests to use them for a multitude of purposes, from family getaways and reunions, an alternative work-from-home location, or simply a change of environment. Landlords struggling with long-term vacancies should consider switching it up and incorporating Airbnbing into their letting strategy. Airbnb hosting services can assist with smoothing out the transitions between long and short-term lettings in response to demands.
Reasons to use an Airbnb management service
It can be daunting to make the leap into Airbnb letting, especially with such surges in demand making it infinitely more cumbersome to self-manage. Here are some of the most important reasons to consider utilising the services of an Airbnb management service:
Quality of listings - expert property photography, expansive listings and optimised search engine reach for maximum exposure.
Guest vetting - the more people use your property, the higher the risk, so choosing the right agency to vet your guests will help to ensure that you best protect the security of your home and/or investment.
Expert guidance - access to expert knowledge to assist with property performance, necessary improvements and customer reviews to name just a few. All the local and letting information expertise you need to maximise your returns.
Maintaining flexibility - Whether you want to travel yourself, have a busy family life or work long hours, being able to remain flexible while an agency tends to your Airbnb letting business is a valuable freedom to consider.
Outsourcing convenience - when you place your listing in the hands of an Airbnb management service, you benefit from ultimate convenience when it comes to consolidating and outsourcing all aspects of the business to that service.
You can often choose which level of service you require, and can potentially have them manage everything from listing the property, vetting guests, managing bookings and check-ins, organising and overseeing cleaning services and property maintenance requirements and more.
Not sure where to begin?
Get in touch with us here at Portico! Our Airbnb management service, Portico Host, can manage every aspect of Airbnb hosting on your behalf, and is supported by Airbnb as part of their professional co-hosting programme.
Related: What To Consider Before Airbnbing Your Home
Portico Host
Our management services range from an essential package (starting from 15% plus VAT) which includes a dedicated account manager who will assist you in setting up your property and managing your listing, to a comprehensive option that includes free insurance that covers both the Host and guest.
With our most comprehensive package, you can essentially just give us the keys and leave everything with us!
All packages include the options for cleaning and linen services and full account management. Our comprehensive packages also include a bespoke and extensive insurance cover. This insurance re-insures your current home insurance (which usually won't cover you for paying guests) and gives you additional cover for theft or damage with up to £1m public liability.The prospect of Airbnbing your home out can be daunting, but you don't have to manage it alone.
So, if you're not sure how to proceed with Airbnbing your home, or simply want assistance to ensure that it runs smoothly, consider employing our management services to maximise your returns while providing you invaluable peace of mind.
Our services can also assist you in seamlessly switching between long and short-term letting management in response to demand and seasonality, as well as your own preferences and needs.
Find out how much your home could earn on Airbnb with our instant property valuation tool. You can also give us a call to find out more about Airbnb and the management service we provide on 020 7099 4000.
Read More: Airbnb Mortgage Rules: What You Need to Know
Looking for advice?
If you're looking to let or sell your property, we can help. Get in touch with your local branch or book in for a property valuation.
Contact Us
Got a question, general enquiry or something else?
Speak to your local expert
Value your Property
You may also like
Since we started in 1987 we have grown to one of the UK's largest property groups, we can save you time and money by offering a range of services and expertise under one roof.