Is buy-to-let still a good investment in 2022?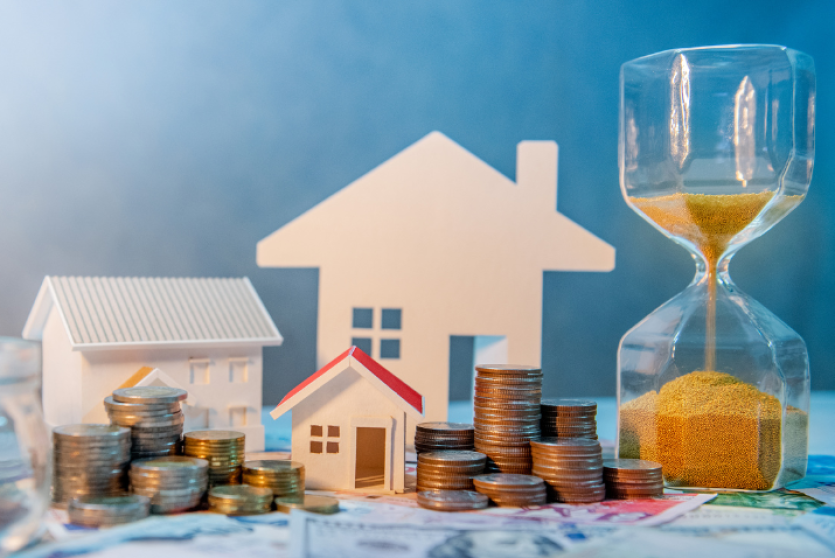 For many years, buy-to-let was widely seen as a great (and pretty easy) way to make money, while providing a much-needed roof over tenants' heads.
However, the Government have made it clear they want to reduce the number of people renting, in favour of home ownership. Their policies over the last decade have resulted in higher costs for landlords and more complex legal requirements to keep up with.
Because of this, and the recent healthy price rises in most areas across the UK, some landlords have decided to sell up and cash in their investment. This has left people asking whether buy-to-let is still a good investment.
Can buy-to-let still be a good investment?
The simple answer to this is yes! Done well, buy-to-let can deliver excellent returns, but the first thing you have to appreciate is that this won't always happen quickly.
Realising good returns for buy-to-let versus other financial investments will typically take longer as the costs to invest are higher. If you want to sell to cash the investment in, it can take some time, especially if the market isn't on the up. And if you don't do enough research into local supply and demand before you make an investment, you can end up buying a property that gives you little income or capital growth.
The good news is if you:
Know your investment objectives
Are clear on the likely timeline for investment returns
Choose a great property to let
It's likely your investment will deliver a healthy return that will enable you to meet your objectives and even beat other types of investment.
Being clear on your investment objectives
This is fairly straightforward when it comes to buy-to-let. Typically, rental properties will deliver investment returns in the form of income (or yield) and/or capital growth.
For income/yield, good quality Houses in Multiple Occupation (HMOs) in areas where there's high demand for shared accommodation can deliver income returns in excess of 7.5% – and sometimes even more than that, especially over time.
For a normal buy-to-let, income/yield returns can be anything from a few per cent through to 5% or even 6%. Although in some areas, it is even possible to generate yields around 8-9%. As rents rise – and they are rocketing at the moment in most places due to a shortage of supply – after around five years, hopefully mortgage costs stay relatively stable and net income starts to build.
According to Paragon Mortgages, it's clear that for most landlords, letting income supplements their 'day job', while around 30% – most of whom have four or more properties – have built a big and successful enough portfolio that letting is their full-time job.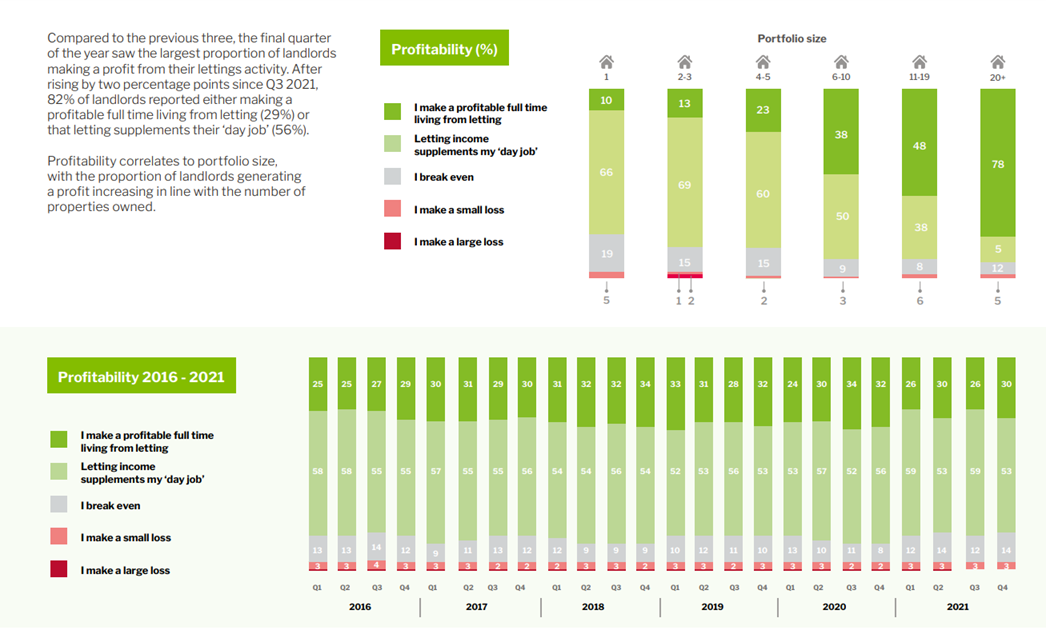 Credit: Paragon Mortgages
Property investment has the benefit of delivering two types of returns, so as well as income you secure capital growth too. Since 2005 average property prices in the UK have risen on an annual basis by:
Country and average annual price rise
England 3.7%
Scotland 3.9%
Wales 3%
N.Ireland 2.1%
Bearing in mind that inflation over this period of time was around 3%, that means average property values have risen faster than inflation in most countries, which is critical to investment success.
Of course, the beauty of property versus other investments is that you can borrow via a mortgage which boosts your returns.
For example:
If you buy a property with cash (or make a cash investment in stocks, for instance) and the market goes up by 10%, you'll get a straight 10% return on your investment.
But if you use the same funds to put down a 25% cash deposit on a property and borrow the remaining 75% via a buy-to-let mortgage, you're only subsidising a quarter of the value of the investment yourself. Then, when the market increases by 10%, you benefit from the return not only on your own money, but also the lender's money, giving you four times the return you would have seen with an all-cash purchase!
You could then make your money go four times as far and buy four properties, rather than one. Even after accounting for the additional costs – including fees, mortgage interest and getting the properties ready to rent – you could make a better financial return by leveraging the bank's money rather than using all your own funds, as long as property prices keep rising.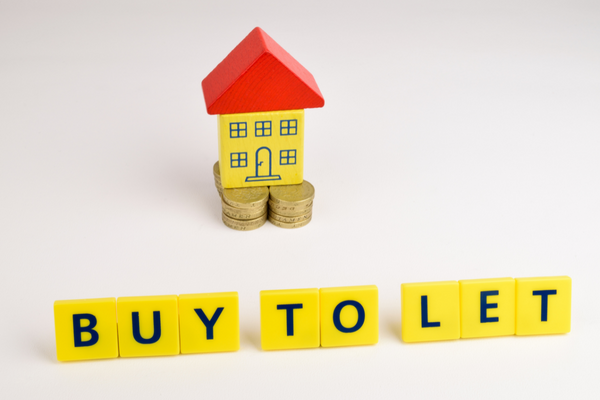 The likely timeline for investment returns
For buy-to-let to deliver a great return against other investments, you're likely to have to invest for a little longer, although you can benefit from income the day you invest.
The reason it may take a little longer is the cost of investing in buy-to-let, which includes the additional 3% stamp duty in England (4% in Scotland and Wales) and making sure the property meets strict legal standards. This means it will take time for the property to rise in enough value to cover the 'costs in', as well as any costs when it comes to sell.
And bear in mind that if you invest in buy-to-let with 100% cash, you may receive an income straight away, but your returns over time won't be as good as if you had invested with a mortgage (see the example in the previous point).
Another reason for subdued rents is when landlords don't invest in the property ongoing. Keeping a rented property well maintained and even making improvements to attract the very best tenants who are willing to pay the highest rates, helps ensure an investment property is always let and the best returns are achieved.
To truly maximise your returns, it's worth working with a proactive local agent or doing your own research to:-
buy the property at a significant discount – for example, because someone needs a quick sale and is prepared to accept a low offer
find a way to add value, such as create extra rooms or space through conversion or extension.This is likely to give you the quickest return.
Michael Cook, Group Managing Director, explains, "When you get buy-to-let right it can give excellent and immediate returns, both from an income and a capital growth perspective. These returns have improved for many during 2020 and 2021 as we have seen some landlords cash in on good capital growth which in turn has put severe pressure on rental supply in many areas. Where property prices and rents have risen, this has boosted landlord returns, especially for well-maintained, good quality rental properties."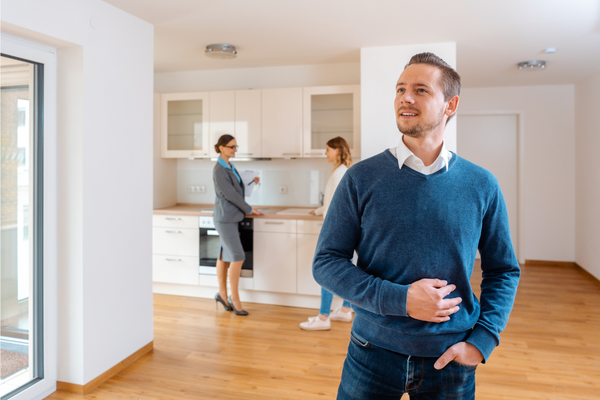 Picking a great property to let
If you bought a property to let pre-2005, it's likely to have delivered a great return by now, as almost every property in the UK doubled in value between 2000 and 2005 according to Land Registry figures. However, since then, property price performance has varied from area to area, by property type, and even on an individual street and property basis.
For example, prices in London have increased by 75% on average since 2005, while in the North East they have risen by just 6%. This doesn't mean those buying in the North East haven't made money from buy-to-let. Some properties will have done extremely well, while others will have not increased at all, depending on whether demand is exceeding or matching supply. And it will be a similar case in London – some rental properties won't have grown by anything like 75%, while others will have increased by more.
The key to identifying a great buy-to-let property that will (a) deliver a good return for you over time and (b) that works within your budget, is to find an excellent local agent to help you. They should be able to tell you which properties on which streets are likely to generate the best monthly rental income and deliver the best capital returns, and they may also be happy to help assess any buy-to-lets you already own.
The 'right' property is one that's short in supply now and likely to remain so into the future. It's also got to be a home that people will always want to rent, so location is one of the most important considerations. As such, it's well worth contacting a good local agent if you're looking to purchase a buy-to-let or if you'd like to discuss your existing portfolio.
So, whether you decide to invest in finance products, a pension or indeed property, it's important to consider all the pros and cons and make sure you know what returns each can deliver, by when.
Buy-to-let can still be a good investment but is unlikely to deliver in the short term – it's much more likely that you'll see the best returns by investing for the longer term. If you buy the right property with a mortgage and hold it for 10+ years, you should see a great return.
To get in touch with your local office for buy-to-let advice, just get in touch using the details next to this article.
Looking for advice?
If you're looking to let or sell your property, we can help. Get in touch with your local branch or book in for a property valuation.
Contact Us
Got a question, general enquiry or something else?
Speak to your local expert
Value your Property
You may also like
Since we started in 1987 we have grown to one of the UK's largest property groups, we can save you time and money by offering a range of services and expertise under one roof.