5 Ways to Add Wow Factor to Your Kitchen on a Budget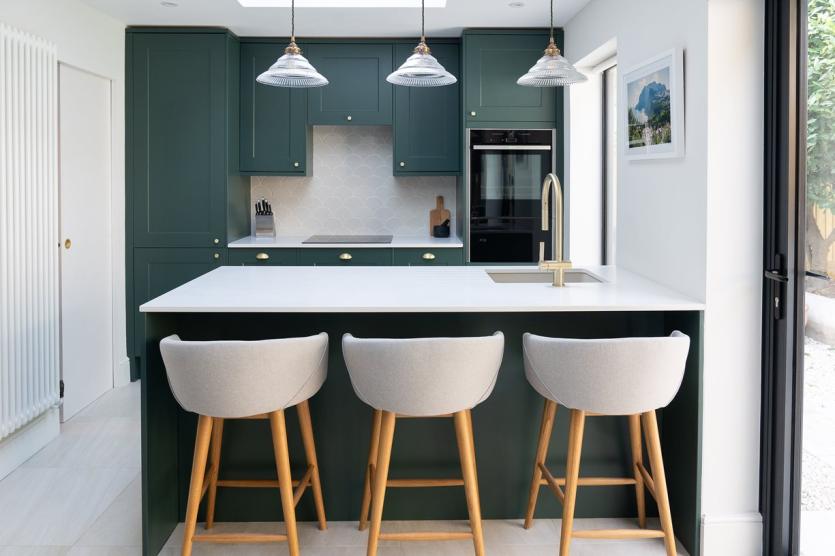 They say the kitchen is the heart of the home. It's a place to cook, eat, spend quality time with loved ones, entertain guests, even work from - so much time is often spent in the kitchen. For this reason, it pays to prioritise the kitchen when it comes to the interior design of the home - such a busy space deserves some thoughtful styling.
For many, the dream of completely renovating their kitchen is simply too costly an exercise, but all is not lost. These days, there are countless affordable and accessible ways to transform a kitchen without breaking the bank. With endless inspiration at your fingertips on apps like Pinterest, and a few handy tips, you can have your kitchen looking and feeling like a stylish new space in no time.
Here are five ways to add that 'wow factor' to your kitchen on a budget.
1. Reface your cabinets
The surface area of your cabinets form a significant part of your kitchen's overall look, and so long as they are structurally sound, it's easy to breathe some new life into them without replacing them completely.
You could replace the fronts alone, or for any even more budget-friendly option, consider painting them instead. Depending on the current surface, you may need to use a primer first, although chalk paint is a great option for covering surfaces without any prep.
As well as choosing a colour that transforms the space, you could also get creative and perhaps leave a door or two off, creating some open shelving to really mix things up.
2. Replace your worktops
Your kitchen worktops are another large surface area that significantly impacts the overall look. Replacing your worktop needn't cost the earth - while marble and quartz is fantastic, today's laminate effects can be hard to distinguish from the real thing.
Another on-trend option is the wood effect - take the time to really consider what option will be practical as well as tie in perfectly with the new theme.
3. Go for statement lighting
Kitchens are a functional space that sometimes require the use of some bright, functional spotlights. That said, just because you need some task lighting from time to time, doesn't mean that you can't create a warm atmosphere with your lighting.
If you have an island, hanging a beautiful statement piece pendant or chandelier over it will certainly bring in the wow factor, as well as serve for a handy spot light on the bench. Even without an island, consider adding statement lighting in the centre of the area, and perhaps some wall sconces for added styling.
4. Consider open shelves
Open shelving in kitchens is very on-trend, and a great way to add some personality to the space and create interesting focal points. Again, you will find lots of inspiration on social media when it comes to trending designs such as this, but essentially you want to fill this space with whatever makes you happy!
Be it your favourite crockery or glassware, cookbooks or something ornamental - play around with some options to see what looks the best, just make sure not to overload the space and create more clutter.
5. Upgrade your hardware
It's amazing how much you can transform a kitchen by changing some of the less obvious features - as they say, the devil is in the detail. Swapping out tired, worn or old fashioned handles for some new ones can really add the wow factor - especially when they are carefully chosen to integrate cohesively with the new design.
By searching online as well as in local DIY stores, you will soon see that the options are virtually endless - ornate, ultra modern, gloss, matte, brass, square, vintage-effect, you name it. Be sure to check measurements for a good fit before purchasing or ordering, especially if the handles are fixed with two or more screws as you'll need the replacement ones to line up with the existing holes.
Hire some help
Even though you might not be taking on a full renovation, it can be beneficial to get some expert help, especially if you're looking to add a new backsplash, change lighting, replace countertops, or anything else that's a bit tricky. Whether you need some expert help or are simply time-poor, Portico has a team of great tradespeople ready to assist!
Related: How To Keep Your House Cool In The Summer
Final thoughts
Hopefully this article has given you some ideas for your kitchen renovation, or inspiration as to what is possible for renovating any area of your home! You'll be amazed at what a few affordable, strategic changes can do to transform the space.
Remember, our team of skilled tradespeople are only a phone call away to help; plus, if your renovation ideas are in preparation for selling and moving, get in touch and see how we can help! You can reach us on 0204 579 1011 to find out how we can assist you.
And, if you're curious to see how much your home is worth, you can use our free instant property valuation tool.
Looking for advice?
If you're looking to let or sell your property, we can help. Get in touch with your local branch or book in for a property valuation.
Contact Us
Got a question, general enquiry or something else?
Speak to your local expert
Value your Property
You may also like
Since we started in 1987 we have grown to one of the UK's largest property groups, we can save you time and money by offering a range of services and expertise under one roof.