Moving Up The Property Ladder: A Guide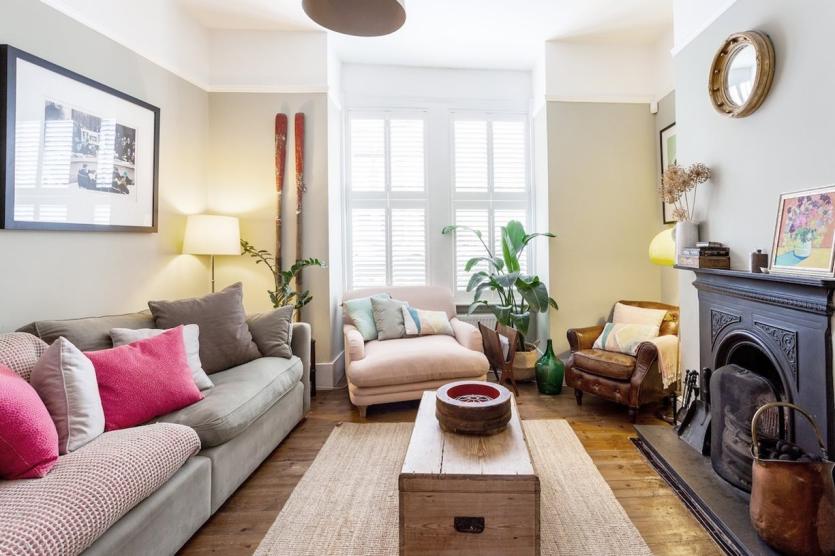 There are a multitude of reasons that can lead homeowners to want to move up the property ladder. Perhaps a new addition to the family is on its way and you need more space, your financial circumstances have improved, or maybe your property needs have simply changed or you are relocating.
Regardless of the reasons, considering moving up the property ladder can be exciting, daunting, or often a bit of both. As a homeowner, you have the luxury of some experience when it comes to exactly what buying a home entails, but you may not have ever had to sell one before, which brings about its own set of challenges.
Selling your current property first 
The first decision you need to make is whether it will be best for you to sell your current home before buying another one, or attempt to complete both your sale and new purchase on the same day.
When you sell your current property first, you put yourself in a strong position as a buyer, as becoming a cash buyer allows you to make strong offers with no downward chain, and this is attractive to sellers. This should also make the process of buying your second home quicker.
That said, selling first comes with its challenges, too. You will have to factor in the costs and inconveniences of moving into rented accommodation, or the pressures of living with family or friends for an indeterminate period of time. The proceeds from your house sale will also be sitting stagnant, and potentially affect your purchasing power in a growth market. Alternatively, however, the opposite could be said in the event that property prices fall after you sell.
Due to the costs and difficulties associated with selling before buying, most people opt to aim for completion of both the sale of their first property and the purchase of their second on the same day.
Related: What does under offer mean? A glossary of buying and selling terms
Choosing your next property
Depending on your circumstances, you may already have a pretty good idea of what you are looking for, but it pays to carefully assess all of your requirements nonetheless.
It always helps with house-hunting to have a very clear picture of what you're looking for when it comes to space, location, schools, and other amenities. Be sure that you have fully considered any aspects of your current home and location that you may have grown accustomed to and would miss if it was absent in your new home. This could be proximity to certain amenities, transport links, etc. Considering what you love about where you currently live can assist you in accurately formulating a must-have list when you go searching for your next home.
Related: How Long Is The Process Of Buying A House?
Mortgaging your new property
Unless the equity in your first property is substantial or you have otherwise come into some money, it is likely that you will need to acquire a mortgage for your new property.
It is sometimes possible to transfer your current mortgage to a new property, but it still requires a new application and processing. Hopefully, your current property may hold some positive equity which works towards bringing down any additional cost attributed to the new property.
Equity is the monetary difference between the current value of your home and the remaining mortgage amount owing. Depending upon the value of the new property you wish to purchase, the equity in your current home can be used to offset the cost of all or part of the deposit required for the new acquisition.
Your first port of call is to discuss your mortgage needs with your current provider, but it is prudent to shop around and get advice from other lenders like the mortgage experts at Portico Finance, as you may well find out you can get a better deal. Drop us an email finance@portico.com or give us a call on 07824 353803 or 07824353800.
Costs to consider
Aside from the obvious cost of potentially servicing a larger mortgage, there are some additional costs to factor in, including:
Estate agent's fees - Typically they are in the region of 1-3% of the property's sale price plus 20% VAT.
Valuation fee - not all lenders will charge you for this, but an independent valuation survey can cost anywhere from £150 to over £1,000 so check this in advance.
Surveyor's fees - it is advised that you obtain a structural survey prior to committing to any property purchase. These range from £250 to £500 or more, so again, shop around but make sure it's thorough to protect you from any unknown repair issues.
Legal fees - solicitor and conveyancer services are required for both buying and selling a property. A rough estimate would be in the region of £800 to £1,400, with an additional £250+ for any local searches conducted.
Mortgage fees - depending on the lender, there may be a range of mortgage fees to factor in, so consult with your chosen lender to determine what to expect. They can range from booking fees, arrangement fees, and mortgage valuation fees. These fees could potentially influence which lender you choose to go with.
Deposit - depending upon the difference in property valuations and the amount of equity you hold, you may need to pay money towards the deposit on the new property. Depending on the nature of your mortgage, this could be between 5% and 20% of the purchase price as a minimum.
Removalists - as a homeowner, you now have a house full of belongings to move to a new address, so don't forget to factor in removalist costs. You can obtain a rough estimate through most companies simply by providing a few key details such as the number of bedrooms etc.
Stamp duty
Unfortunately, stamp duty remains one of the biggest barriers to overcome when it comes to moving up the property ladder. First-time buyers have the potential to avoid paying it completely if they find a property under £300,000, but this is not the case for those buying their second property or 'second steppers' as they are known.
The first £125,000 is still Stamp Duty-free, but beyond that, the charges increase incrementally as follows:
For properties up to £250,000 in value, 2% is charged on the portion above £125,000
For properties up to £925,000 in value, 5% is charged on the portion above £125,000
For properties up to £1.5 million in value, 10% is charged on the portion above £125,000
For properties over £1.5 million in value, 12% is charged on the portion above £125,000
Being part of a sales chain
Typically, residential property transactions occur in chains. This means that the party buying your property is also trying to sell their own, and the party selling your new property to you is also trying to buy their next one. This chain does not always head in both directions, but often does.
This is why selling your home in advance of buying a new one can put you in an advantageous position when it comes to negotiating and turning the process around quickly. If that's not an option, though, try to search for properties that are part of smaller chains, or ideally no chain at all.
Your solicitor will manage the chain to ensure that the transactions all go through as quickly as possible. This may require negotiating changes around contract exchanges, moving dates and money transfers, so keep in close contact with them through this process.
Related: Checklist For Buying A Second Property
Buildings Insurance
As with your first property, you will need to have buildings insurance in place for your new property once you've exchanged contracts. You will also need to keep some in place for your current home until after you've moved out to ensure that you are protected from any damage liability during the move.
Get in touch
If you are thinking about moving up the property ladder, get in touch with us here at Portico and see how we can help! Not only do we have premium property listings in a variety of areas, but we have mortgage experts on hand to offer their advice, and you can get an idea of the value of your home with just a few easy clicks via our online property valuation tool.
Looking for advice?
If you're looking to let or sell your property, we can help. Get in touch with your local branch or book in for a property valuation.
Contact Us
Got a question, general enquiry or something else?
Speak to your local expert
Value your Property
You may also like
Since we started in 1987 we have grown to one of the UK's largest property groups, we can save you time and money by offering a range of services and expertise under one roof.