How To Make Your Home More Eco-Friendly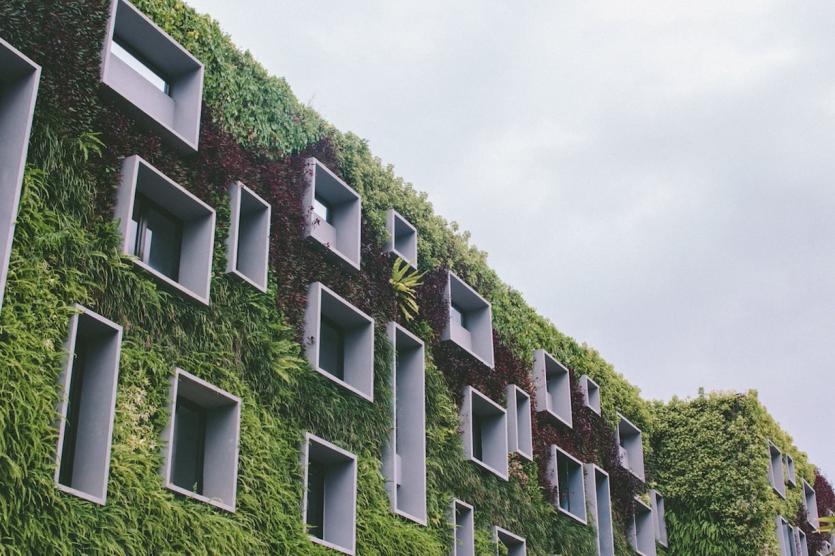 Eco-friendly living has never been more on-trend. As environmental concerns mount up and the cost of living increases, many are beginning to prioritise sustainability and eco-friendliness in their homes.
There are many ways to make your home more eco-friendly. Some simply increase your peace of mind, while others can increase your home's value.
In fact, a recent study by money.co.uk has found that giving your property a green refurbishment could increase its value by more than £29,000.
The report outlined that draft proofing is the number-one improvement that potential UK buyers value the most, followed by thermostat installation and smart meter installation.
Here are some great ways to make your home more eco-friendly and potentially add some value.
Upgrade to energy-efficient light bulbs
Energy-efficient light bulbs have been around for some time now, but they haven't always been popular. Not only was the extent of their effectiveness not commonly understood, but they haven't always been bright enough to warrant any mass adoption.
In recent years, however, their technology has advanced considerably. As a result, they throw more light out than before and take less time to lighten up a room. Not only are they much more energy-efficient, but they require far less replacing, too.
Related: Green Homes Grant: How Can Homeowners And Landlords Benefit
Insulate properly
Superior insulation makes a huge difference to the amount of heat your property retains inside. The better the heat retention, the less energy is needed to maintain warmth in your home. Therefore, ensuring that your home is properly insulated is one of the most cost-effective ways to save money on household utilities.
Key areas to insulate include the roof and external walls of your house. Proper insulation improves your property's energy efficiency, leading to lower monthly expenses, consequently making for a more desirable property.
Install solar panels
Solar panels are an essential energy upgrade for anyone serious about becoming truly eco-friendly.
The initial outlay may not be small, but it's a long-term investment that often results in savings that more than cover the installation costs. Some people even manage to live solely off the electricity harnessed by their solar panels. Solar panels are also another way to increase the value and desirability of your home when it comes to selling it and moving on.
Install a smart meter
Boilers and heating systems chew up more energy than anything else, and many people unknowingly have them running for longer than is actually needed, especially in the winter months.
Smart meters make it easy to monitor your home's energy consumption. You can also program these devices to turn your heating on and off at set times of the day. The convenience of having your heating set to warm up your home before you get up or come home is a treat, but also prevents you from keeping it on unnecessarily.
Install an EV ChargePoint
If pending legislation becomes law in the UK, all new home builds will soon have to include electric vehicle (EV) charging stations. Electric cars have been gaining popularity for some time now, and research shows that installing an EV charging point could add around £2,700 value to your home.
Double glaze your windows
Double glazing now comes in many attractive forms, and, like solar panels, the initial investment may be significant, but the savings are considerable in the long run. Double glazing helps to keep your home well-insulated, keeping energy costs down. Installing double glazing also adds to the value of a property.
Install underfloor heating
Most people associate underfloor heating with new builds, but it is actually relatively easy to install it in existing homes, too. Radiant floor heating is not only a more cost-effective way to heat your home, but it allows for a more modern, minimalist aesthetic, too.
Switch to a low-flow showerhead
Showering may be an energy-saving, low water-usage way to wash when compared to running a big, hot bath. Still, if you stand under a powerful showerhead for longer than five or ten minutes, you're not making any savings.
Switching to a low-flow showerhead will help you to save on water and energy, allowing you a little more time to relax without the worry. That said, if you can still stick to ten minutes or less, you'll be saving even more!
Get your boiler serviced regularly
If you're running on a much older boiler, it may be more prudent to upgrade the whole thing. Modern boilers are significantly more energy and heat-efficient than older ones, but they still need to be regularly serviced to work optimally.
If there's still some life left in your boiler system and now isn't the time to upgrade, make sure you get it serviced regularly to keep it running as well as it can. This also helps to prevent any issues come the winter months.
Also, see if you can comfortably reduce the temperature on your thermostat, even by a degree or two, as this can make a surprising difference to your energy bill.
Replace blinds with thicker curtains
Blinds may have become more fashionable as window dressings go, but a thicker curtain is a great way to conserve some energy. Thick curtains help keep warmth in or out, depending on the time of year. Curtains may not be a functional choice for every window of the house, but use them where you can to maximise natural energy conservation.
Boost your EPC rating
Whatever upgrades your property needs to become more energy-efficient, they will all improve your energy rating, and a higher energy rating can equal increased profits.
To take a proactive approach to this, consider having an energy survey carried out first to determine where best to focus your upgrade efforts.
An Energy Performance Certificate (EPC) provides an official rating for your home's energy efficiency, with A being the best and G being the worst. According to research, taking your home's energy rating from a G to an A could increase its value by as much as 14%.
Thinking of selling your property or doing some home improvement?
Give us a call on 0207 099 4000 if you'd like us to arrange an EPC assessment, or if you need any maintenance or renovation work. Portico handymen and tradespeople are reliable and skilled to carry out a huge range of eco-friendly home improvements, and are available to Portico clients and non Portico clients.
Similarly, if you are considering selling your property, give us a call and see how we can help! March is the strongest month to sell, so there's a fantastic upcoming opportunity for those wanting to achieve a great price for their home.Made any green improvements recently? You can get an idea of your property's current value by using our handy online valuation tool or by contacting us on 020 7099 4000 and getting one of our experienced Sales Managers to come round and value your home.
Looking for advice?
If you're looking to let or sell your property, we can help. Get in touch with your local branch or book in for a property valuation.
Contact Us
Got a question, general enquiry or something else?
Speak to your local expert
Value your Property
You may also like
Since we started in 1987 we have grown to one of the UK's largest property groups, we can save you time and money by offering a range of services and expertise under one roof.