Top Interior Design Trends For 2022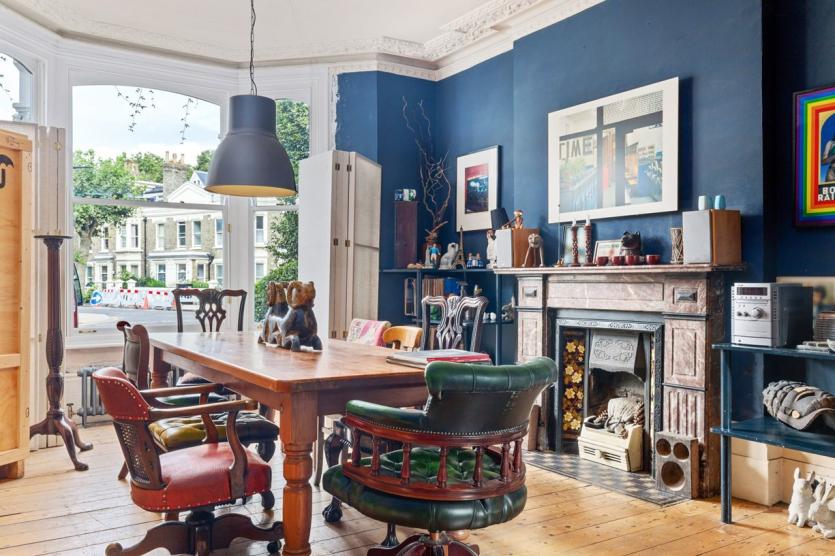 Many factors shape the evolution of interior design trends - the seasons, fashion in general, and the economic climate. Essentially, interior design trends develop in response to what's happening in the world around us, taking inspiration from different cultures, art movements, and evolving lifestyle needs. This may sound broad, but, case-in-point - the pandemic conditions have marked a significant change in how we want to feel in our home environments.
What is new in interior design trends?
Interior design trends have shifted significantly in the past year or so. With such a complex variety of feelings surrounding the pandemic and resulting lockdown conditions, emerging trends vary greatly between increased eclectic, joyful themes and grounding, earthy settings.
Here are some of the most popular interior design trends set to dominate the sector in 2022.
1. Textured nudes
While we're focused on calming, less 'busy' design trends, many people who are attracted to the more monochrome end of the design spectrum are using textured nudes as a modern, fresh approach. Similar to focusing on earthy tones, textured nudes may take on some bolder colours, but essentially keeps to a more muted palette and incorporates textures to add life to the space. Textured wallpapers, wooden cabinetry painted in pastels or greys, and adding fabrics such as wools, mohair, and sheepskin create the feel of a modern, safe cave.
Walls painted in Spiced Honey By Dulux which was their colour of the year in 2019. Image via sophierobinson.co.uk.
2. Incorporating the calming vibes of nature
This is a continuing trend from 2020/21 but is persisting for good reason. We collectively experienced a sizable awakening regarding the importance of mental health and how our environment can contribute to it during the lockdowns. As a result, we recognised that bringing aspects of the outdoors inside helped us connect to nature's tranquillity in our homes. Therefore, natural materials, fabrics, and tones continue to trend strongly. Woods, plants, and earthy tones all help us to feel more grounded, centred, and calm while relaxing in our home environments. 
Image: Dear Designer
3. Travel-inspired decor
If we can't yet travel to Tibet, then we will bring Tibet to us! After the pandemic restrictions, we are all longing for some much-needed escapism. The world may be cautiously opening up, but returning to 'normal' world-travel is still out of reach. Therefore, many are opting to bring travel inspirations into their living space to create an exuberant home environment.
Travel-inspired wall motifs are popular, as they can fill a large space and really make an impact - colourful, vibrant, and full of the promise and wonder of far-away lands.
Indian Palace Wallpaper from limelace.co.uk.


Ocean Magic Wallpaper by munksandme.com. 
4. Vintage and upcycling
With more time pottering at home and unprecedented access to online DIY resources, upcycling is still all the rage.
Antiques, charity shop finds, and upcycling preloved furniture and bric-a-brac items are all trending projects currently woven into the interior design scene.
Upcycling projects are versatile in that they can be used to accent anything from modern minimalistic themes to eclectic settings depending on the item and how it is treated. Foraging for antiques, recyclable items, and unique second-hand pieces also fits well into the next trending theme we will cover - sustainability.
Image: Real Homes
5. Sustainability in design
Conscious consumerism is finally taking centre stage in the way we live our lives, and considering sustainability is outgrowing its trend status and becoming the norm.
As well as implementing smarter uses for pre-loved items, eco-friendly products, paints, and furnishings are growing exponentially in popularity.
With increased exposure to the impacts of climate change, sustainability trends have infiltrated the interior design industry. The use of reclaimed woods and recycled metal and glass is becoming more commonplace, and sustainability-responsible companies are being championed.
Photo by Murray Fredericks, via Dwell
6. Blue is the new black
Shades of blue have been growing in popularity for some time now, promoting feelings of tranquillity and connection to the ocean and the sky. Additionally, the darker blue tones can infuse a space with an air of luxury and drama.
Blue is so on-trend that Dulux named a light blue shade called 'Bright Skies' as its Colour of the Year for 2022.
Blue is set to feature heavily in bedroom redesign in the coming year, with its positive, nature-related calming effects helping to add some extra tranquillity to our sleeping space.
Darker blues will also be used prominently throughout the house, especially on walls, helping to create dramatic backgrounds to crisp white art frames and the clean lines that frame a room.
Image via Instagram by @vintagecuratorinteriors. Paint colour: Railings by Farrow and Ball.
7. Glazed exterior tiling
Now that many have poured over redesigning their internal home spaces, more focus is shifting towards the exterior. Injecting the outside of a property with vibrant bursts of colour is a fresh and modern trend that creates a real wow factor, particularly when it contrasts with the surrounding traditional brickwork.
Glazed, colourful exterior tiling is an unexpected yet delightful trend that is growing, with more examples popping up all the time throughout London - like this colourful Edwardian Hackney house below.
This bold approach to exterior design is a wonderful way to introduce a unique and personal touch to the first impressions of a home.
Image: Homes & Property
8. Statement lighting
Especially handy for those wanting to transform their interiors and decorate on a limited budget, incorporating statement lighting pieces can significantly impact a space all on its own.
Sculptural pendants, floor lamps, unique sconces - all manner of decorative lighting can transform a room, acting not only as a means of creating mood lighting but as a piece of stand-alone art, too.
Cavelights Spider Chandelier. Lights and image via cavelightstore.com.
9. Rich coloured velvets
Luxurious velvets seem to be everywhere at the moment. Particularly for cushions and accent chairs, rich coloured velvets are delivering a punch of lavish opulence and boldness to many an interior design setting of late.
Rich emeralds and navy blues are particularly popular, and the use of rich velvets is a great way to bring an otherwise understated area to life. For example, simply investing in a bold velvet sofa can transform a lounge area, injecting colour and luxury and providing a focal point from which to further accessorise the room.
Image: snugsofa.com
Final thoughts
Calming comfort, inspired escapism, splashes of luxury and colour through texture and accents - these will all be trending into 2022 as we continue to transform our homes into ever-evolving sanctuaries and personal statement environments that bring calm and joy.
If you're thinking of renovating or adding a fresh lick of paint, get in touch with our handyman team on 020 7099 6999. You can also get an instant handyman quote here.
If you've renovated and want to see if your property has increased in value, or if you're just curious, try our online property valuation tool or give us a call on 020 7099 4000.
You can also view all our available London properties for sale, and London properties for rent.
Looking for advice?
If you're looking to let or sell your property, we can help. Get in touch with your local branch or book in for a property valuation.
Contact Us
Got a question, general enquiry or something else?
Speak to your local expert
Value your Property
You may also like
Since we started in 1987 we have grown to one of the UK's largest property groups, we can save you time and money by offering a range of services and expertise under one roof.