Best Rental Yields In London Quarter 4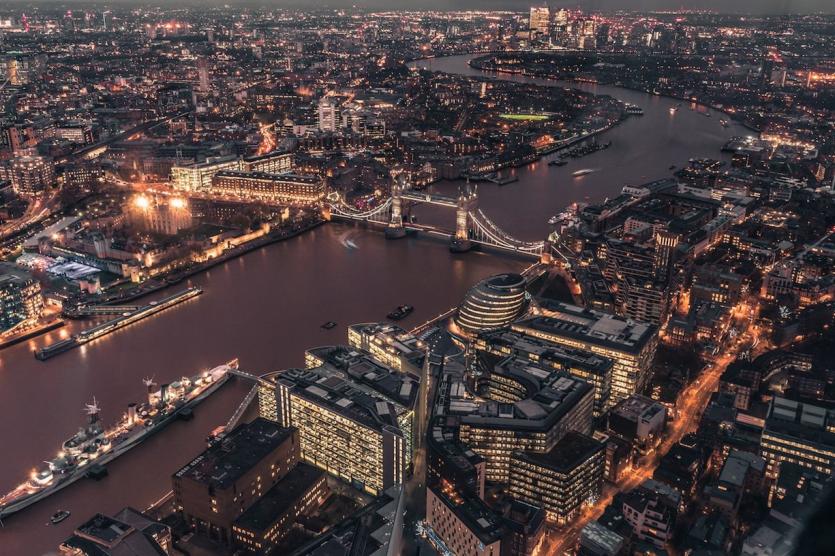 The London rental market has seen a year of transition as demand grew and supply fell. According to recent data, the number of rental properties available in London fell by 58 percent between August 2020 and August 2021. In the same period, there was a 55 percent increase in the number of tenants looking for a rental property.
With that in mind, we looked at some of the hotspots that are currently offering strong rental yields in the four geographical areas of London. As our London rental yield map shows, these are just a few of the areas that you may find of interest as economic conditions continue to improve.
NORTH LONDON
1. Freezywater 5.7%
Freezywater is an affordable residential locality in the north-east corner of Enfield, south of the M25. There's a good mix of both houses and flats, making it an attractive area for professional couples and people looking to start a family. The area currently lacks good transport connections, but nearby Enfield Lock station offers direct trains into central London and the eventual arrival of Crossrail could boost local property prices.
2. Ponders End 5.7%
Ponders End is a district of Enfield that has transformed from a predominately industrial area to housing estates of modern terraces and tower blocks. Ponders End has been identified as a regeneration priority area and a number of projects are progressing, with the final phase of the Electric Quarter Regeneration Scheme underway and Dujardin Mews complete and a winner of two prestigious RIBA awards.
3. Claverings Industrial Estate 5.6%
This 1950s industrial estate, owned by Enfield Council, is set to be sold off in a drive to cut costs. The site would be redeveloped to provide modern, energy-efficient employment space, according to a council report. Currently, the council owns 39 percent of the estate and leases the rest to businesses and organisations.
4. Edmonton Green 5.5%
Edmonton Green is currently a town centre retail location with more than 120 shops and an indoor market dating back to the 1960s and 70s. However, it is set for major redevelopment with proposals for new homes and public spaces, redesigned streets and better links with the local area. The developer wants to build a mixture of family homes and smaller properties, both for sale and to rent, including affordable housing.
5. Brimsdown 5.4%
Brimsdown has remained one of the best rental yield opportunities throughout the year. The area is set to benefit from the arrival of Crossrail at its existing station. To date the area has been seen as primarily commercial and industrial with its proximity to the M25. It has the potential for redevelopment and regeneration but has been hampered by poor transport connections. Crossrail should change that, making Brimsdown an attractive long-term investment opportunity.
6. Silver Street, north of Tottenham 5.3%
With 10,000 new homes planned and a wealth of existing properties, Tottenham is proving to be an attractive place for affordable living with major private residential schemes, shared ownership and rent-to-buy properties. Silver Street is home to one of the district's stations with good, fast links to the City and the rest of London. The Tottenham area is set to benefit from the arrival of Crossrail 2 with its likely impact on property prices and rental yields.
Related: How Is Rental Yield Calculated?
South London
1. West Wickham 4.8%
West Wickham is a suburban area of the South East. Its properties are dominated by 1930s three- and four-bedroom terrace and semi-detached houses, along with larger Thirties houses with large gardens. West Wickham has a strong community atmosphere and village-like qualities, despite its proximity to the City for commuters.
2. South Beddington 4.7%
Beddington is a pleasant residential area in the borough of Sutton in South-East London. There are four conservation areas within Beddington and the council has ambitious plans to improve the quality of life for the whole area with a series of projects to enhance the environment.
3. Thornton Heath 4.7%
Thornton Heath is a residential district to the north of central Croydon. Its busy high street acts as a hub for the local community and plays an important role in the local economic life. The area holds opportunities for development and better use of existing buildings. Thornton Heath is changing and adapting to new ways of shopping and working, and housing growth will bring new residents to the area.
4. Mitcham 4.6%
Mitcham is a suburb in the borough of Merton, a short journey from Charing Cross and popular with commuters. It's close to the borders of the Surrey countryside and has its own popular green space in Mitcham Common. A £1.3 billion regeneration of three former council estates will provide 2,800 new homes with 400 homes built to rent and more than 1,200 for sale on the open market.
5. Selhurst 4.5%
Selhurst is a pleasant commuter district in South-East London and home to the famous Crystal Palace, as well as the Premier League football club, Crystal Palace. The district is a popular place for families, with easy commuting to the City and many green spaces.Read More: The Cheapest Places To Rent In London
East London
1. Creekmouth 6%
Creekmouth is an area of East London in the Borough of Barking and Dagenham adjacent to an estate which is part of the one of the largest regeneration projects in the Thames Gateway. Although the area is predominantly industrial and commercial, developers are working with local businesses to promote job growth and introduce new residential components to improve the environment.
2. Barking 5.9%
Barking has seen significant redevelopment recently aimed at making the town a more attractive place to live. The town centre has seen regeneration with new retail and business spaces, and more new homes around the mainline station. With house prices around one third of the London average, Barking offers many affordable investment opportunities.
3. Cranbrook 5.9%
Cranbrook is part of the borough of Ilford, with a good quality of life. It has good connections to the city, yet offers affordable properties for rent. It is close to many green spaces, including Wanstead Park, Wanstead Flats and its own Cranbrook Park.
Read More: Living in Ilford: Local Guide and Property Market
4. Little Heath 5.8%
Little Heath is a pleasant 'oasis' in the busy East London borough of Redbridge. Although it is close to the busy A12 trunk road, Little Heath retains its village atmosphere, helped by its designation as a conservation area.
5. Upney – 5.8%
Upney is in the east of the borough of Barking & Dagenham and has its own underground station for easy access to central London. Average property prices are higher than the rest of the borough, but there are plenty of investment bargains available.
6. Kempton Road, East Ham 5.8%
Kempton Road is part of East Ham is in the borough of Newham, an area that has seen rapid property price increases, thanks in part to the arrival of the Olympic Park. East Ham itself is a vibrant multicultural area that has many attractive older properties at affordable prices. Properties in Kempton Road were 4 percent up on the previous year.
West London
1. Hayes Town 5.1%
Hayes Town Centre in the borough of Hillingdon is set to be part of a £230m project to build housing in west London over the next 15 years. The programme will see more than 400 existing homes demolished and replaced with new neighbourhoods consisting of around 750 new homes. Hayes itself is undergoing significant growth as new industry moves into the area.
2. Harlington 5.1%
Crossrail is coming to this West London district and it will further fuel the property growth driven by the influx of high-tech businesses to the area. A £250 million development to build around 650 homes with commercial and leisure space is under way. While the area itself is undergoing rapid change there are plenty of green spaces and pleasant walks along the banks of the Grand Union Canal.
3. Wembley 4.8%
Wembley in the borough of Brent is undergoing massive regeneration – one of the largest schemes in the UK. As well as new homes, there are many new leisure and cultural facilities to add to Wembley's hundreds of existing stores and restaurants. Many of the new homes feature WiFi, onsite gyms and shared workspaces. With connections to central London less than 15 minutes away and the iconic Wembley Stadium at its heart, the district represents a very attractive opportunity.
4. Harrow & Wealdstone 4.9% - 4.7%
The district of Harrow & Wealdstone is 12 miles from central London and a popular commuter suburb with a wide range of property including semi-detached and detached three- and four-bedroom houses .Many of the homes have attractive features influenced by the Arts & Crafts movement, mock Tudor and Art Deco styles. The town centre has two shopping centres that are among the largest in London. A £600 million regeneration plan will deliver 1,500 new homes, including a significant number of affordable homes, a new civic centre, shops, offices, and a school, as well as public and green spaces.
5. Northolt Park 4.8%
Northolt offers a wide range of property that includes a good mix of homes including apartments, terraces, and semis, with many homes that are relatively affordable and suitable for first time buyers and young families. The area also has good schools and access to green open spaces and the Grand Union Canal.
6. North Harrow/Rayners Lane 4.4%
Rayners Lane is a district in the borough of Harrow. It is an attractive area for commuters and popular with owner occupiers and buy to let investors, buoyed by a number of developments around the area with a proposal for almost 1,000 new homes on the former Kodak site.
Find out more
This is just a small selection of areas that are demonstrating high yields for investors. If you would like to find out more about investment opportunities in these or other areas, we can help.
Get in touch with us at 020 7099 4000, view all our available London properties for sale.
You can also get an instant online property valuation or rental valuation in a few clicks to see what your home or rental is currently worth.
Looking for advice?
If you're looking to let or sell your property, we can help. Get in touch with your local branch or book in for a property valuation.
Contact Us
Got a question, general enquiry or something else?
Speak to your local expert
Value your Property
You may also like
Since we started in 1987 we have grown to one of the UK's largest property groups, we can save you time and money by offering a range of services and expertise under one roof.