Living In Camden: Local Guide and Property Market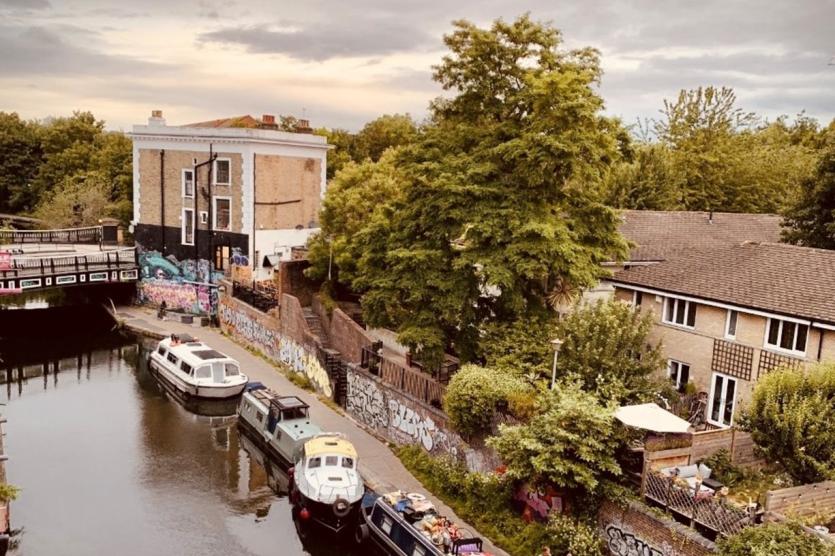 Once part of the manor of Kentish Town, Camden was named after the 1st Earl Camden, Charles Pratt. Sir Pratt began developing the area in 1791, gradually adding houses and estates along the main stretch, in an attempt to create a new area for middle and upper-class residents.
Despite this quiet residential vision, however, the fate of Camden was altered by the 1820 opening of the Regent's Canal, as well as the construction of the railway that split the town in two. These developments soon attracted the factory and warehouse industry to the area, and the working-class demographic that came with it.
This divide allowed for both the working class around St Pancras and the upper class of the Regent's Park area to co-inhabit Camden and potentially create the eclectic population mix and individuality that remains in place today.
In the earlier days, public houses abounded and the area was well known for its drinking, prostitution, and general debauchery. By 1910, however, cinemas and theatres began popping up in the area, gradually improving the town's reputation.
The 1960s were a pivotal time for Camden, with the era of rock and psychedelia setting up camp at the historic Roundhouse. The Roundhouse, originally a locomotive shed and then a gin distillery, became a venue that largely hosted the cultural revolution of the area. The biggest musicians and bands performed there, and The Roundhouse soon became the original home of Punk.
Soon after, Camden Markets began its eclectic trading in 1974 and hasn't looked back, having now become one of the most famous markets in the world.
Camden today
Camden Town is bordered by Chalk Farm to the north, Barnsbury to the east, Kings Cross and Regent's Park to the south, and Primrose Hill to the west.
Singer Amy Winehouse, affectionately known as the district's 'patron saint' famously adored living in Camden, and now her commemorative statue overlooks Stables Market. Her legacy epitomises the feel of much of Camden town in terms of her rebellious, individualistic, talented, and passionate nature. Artistry runs through the veins of Camden, with many of the UK's leading artists, writers, and intellectuals inhabiting Gloucester Crescent and surrounding streets from the 1950s and 1960s to today.
Over the years, the evolution of Camden has created a beautiful and diverse place to live, with many industrial buildings being developed into modern apartments and lofts, and older period homes being rejuvenated for modern living.
Living in Camden
The grungy punk edge of Camden has certainly been balanced out with some sophistication in recent times, and today the town is an exciting area that attracts a diverse range of people. Lawyers, teachers, artists, aspiring rock stars, and more all live harmoniously in Camden, enjoying the picturesque architecture and abundance of amenities.
As well as Camden's famous markets, the area boasts a wide variety of shops and boutiques, gyms, salons, and spas, cinemas and theatres, libraries, and more. There are also a number of clubs, restaurants, and cafes to cater to everyone.
A day in the borough of Camden can encompass a vast array of experiences. The tranquility of Hampstead, the vibrant retail offerings from Tottenham Court Road, and Primrose Hill's quintessential charm, is just the start. The comedy and live music scene of Camden Town and Kentish Town and the trendy dining and bar options in Kings Cross combined with the variety of arts and theatre options throughout the area provide an abundance of options for all.
There are also a range of open spaces and attractions to enjoy, including, of course, the famous Camden Markets, as well as Covent Garden, London Zoo, The Roundhouse, Hatton Garden, Abbey Road, and The Charles Dickens Museum, just to name a few.
Camden is also an enviable location when it comes to connectivity. National Rail, the London Overground, and even the Eurostar connect Camden to the city and the country, as well as the rest of Europe! There are London Underground stations located across the borough that service all major north-south and east-west lines, as well as an extensive bus network.
Camden Property Market: Sales
Current real-time figures show that the Camden property market is buoyant. According to these figures, the majority of properties sold in Camden in the last twelve months were flats, achieving an average sales price of £842,236. Terraced properties, meanwhile, sold for an average of £1,999,445, and semi-detached properties in Camden fetched £3,346,514.
Portico's Camden Manager, Adam Green, says, "While average prices in Camden are higher than some other London boroughs, the area is a highly popular, desirable and well-connected place to live that justifies the price tag. That said, there are still some opportunities to invest in the borough of Camden at more affordable price points, with values in nearby Euston currently averaging a far more modest £485,006."
The average property price in Camden is currently £1,194,852, up 6% year-on-year, as well as 6% higher than the £1,127,21 average of 2018.
Camden is also a particularly popular destination for staycationers. Many landlords and homeowners based in Camden are currently using Airbnb to bring in a healthy income, thanks to the iconic attraction of the area and its proximity to the city.
If you are considering Airbnbing your Camden property or investing in the area in order to cash in on the Airbnb boom, you'll need an expert property management service. Get in touch with us to find out about our comprehensive range of Airbnb property management services with Portico Host.
Property for sale in and around Camden
3 Bedrooms, 1 Bathroom
Greenland Road, Camden, NW1
£899,950 (Freehold)
2 Bedrooms, 1 Bathroom
St. Pancras Way, Camden, NW1
£570,000 (Leasehold)
2 Bedrooms, 1 Bathroom
Camden Road, Camden, NW1
£475,000 (Leasehold)
2 Bedrooms, 1 Bathroom
Harrington Square, King's Cross, NW1
£450,000 (Leasehold)
2 Bedrooms, 1 Bathroom
Weavers Way, Camden, NW1
£435,000 (Leasehold)
Camden Property Market: Rentals
According to our latest data, rentals in Camden are currently averaging £400 per week for a 1-bedroom property, £779 per week for a 2-bedroom property, £1,295 per month for a 3-bedroom property, and £39,584 per month for a 4-bedroom property. 
The majority of properties to rent in Camden are currently 4-bedroom + homes.
Read More: The Cheapest Places To Rent In London
Property for rent in and around Camden
1 Bedroom, 1 Bathroom
Cliff Road, Camden, NW1
£345 per week (£1,500 pcm) tenancy info
1 Bedroom, 1 Bathroom
First Floor Flat, Haslemere Road, Harringay, N8
£345 per week (£1,500 pcm) tenancy info
£10m regeneration project near Abbey Road
An underused multi-story car park has already been replaced by 141 new homes and new commercial space during phase one of the regeneration plans rolling out near Abbey Road.
The next phase will see a further 241 energy-efficient homes to the area, as well as the revitalisation works to a range of Camden community facilities, and the construction of a new community and health centre, as well as vital new outdoor space.
The regeneration plans have been hailed as essential to shining a light on the importance of focusing on unity and health in communities, especially given the colossal challenges that the country has faced during the pandemic.
These regeneration works are set to not only add to the modern evolution of such a historical, popular London borough, but also to assist in the economic recovery of the area post-covid.
Camden is already a beloved and iconic area that attracts millions of tourists every year. These regeneration works only further add to the desirability of the borough and bolster the ability of properties in the area to not only hold their value, but continue to experience growth in the years to come.
Looking to buy, rent or invest in Camden
The vast array of amenities, attractions, and open spaces, coupled with the artistry, eclectic style, and history of the area makes iconic Camden a highly desirable place to live.If you are thinking of buying, renting, or investing in Camden, contact our Camden estate agent office on 020 7482 1060 - we're here to answer any of your questions regarding the area or any particular properties of interest.
You can also find out how much your property could currently be worth in just a few easy clicks via our online property valuation tool.
Looking for advice?
If you're looking to let or sell your property, we can help. Get in touch with your local branch or book in for a property valuation.
Contact Us
Got a question, general enquiry or something else?
Speak to your local expert
Value your Property
You may also like
Since we started in 1987 we have grown to one of the UK's largest property groups, we can save you time and money by offering a range of services and expertise under one roof.